"I'm Not Good At Doing What I'm Told"
American Way, April 1, 1988
by Rod Davis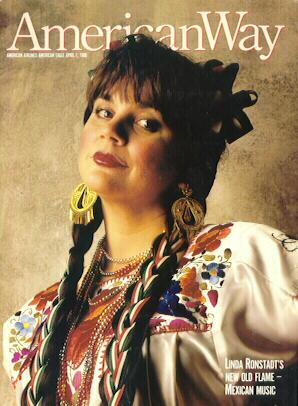 She was looking into a lighted makeup mirror atop a cosmetics-strewn table, and a face of girlish healthiness was looking back.
"You learn how to listen to the tiniest little detail in the sound," said Linda Ronstadt, "to listen to relationships and patterns and how patterns relate to each other within the whole scheme of sounds. I can listen to someone with my eyes closed and practically tell you if they're telling you the truth or not, or, if they're going through a sentence, what they're nervous about, because that word will jump in a certain way. The sound of it will change, if there's anger, or embarrassment, or. . ."
The last thing I wanted to do at that moment was talk; my words would jump like fleas. I already was perspiring - worst place, top of my head. I was wretched. I was dying. I was ecstatic. I met her only a few minutes earlier, on a stairwell in San Antonio's Municipal Auditorium, just right of the stage, where dancers and mariachis were rehearsing and stagehands were fussing over equipment. She had been talking to a Las Vegas animal trainer, Ed Krieg, whose white palomas (pigeons) were to be used in her show. She spoke softly to the birds, wanting to pet them, but not to frighten them. She was sitting, leaning across the bare concrete in a blue-jean jacket. Her shoulder-length hair was full and black. When she turned to greet me, she smiled. The whiteness of her teeth and the clearness of her fabled brown eyes took away a little of my breath. She said, "I'm Linda." And then I was sitting in her plain, white dressing room, watching her put on makeup for an afternoon photo session. She was in San Antonio, a Hispanic majority city of one million people, to open a 15-city, national tour based on her new, gold-selling Spanish-language album, Canciones de mi Padre (Elektra, 1987). I was close enough to see her exactly as she was - unadorned: the person, not the persona.


In the fantasy factories of pop culture, where she had been traded and handled since she was 18 and had moved to Los Angeles to sing "Different Drum" for the Stone Poneys, Linda Ronstadt was an enchantress. In person, she bore nothing of such hype. I was nervous in her presence, yes, and high on the fantasy factory infatuation, but instead of lust, two poems by John Keats popped like baseball statistics into my brain. One was On First Looking Into Chapman's Homer, a strange sonnet about Homer, Cortez, the Pacific and the power of language. The second was Ode on a Grecian Urn, where "beauty is truth, truth beauty."
Linda Ronstadt was not frozen in clay. She was alive, sentient, bent forward from her director's chair in a black velvet shift, arms laden with silver bracelets, two-tone beige and red cowboy boots covering calves clad in black tights, toying with a small canister of Color Foundation by William Tuttle, Tawn-Shee shade - "my exact color."
She explained what she was doing here in San Antonio. How Canciones had evolved from an idea that no one would take seriously to a project that, like La Bamba last year and the Metropolitan Museum of Modern Art's huge Hispanic art show coming in 1990, is a benchmark of Latin cultural renaissance in the United States.

It started in a bedroom full of glitter three years ago in Malibu at Linda Ronstadt's home. It was not long after she'd been invited to sing at the Tucson Mariachi Festival, an annual international event held in the city in which she was born on July 15, 1946, and where her brother Pete, who sings backup vocals on the album, is chief of police.

"The people who were organizing the festival knew that my family sings in Spanish and thought I would be interested, and they called my dad and said, 'Would she like to do this?' And I said, 'You bet!' because it meant I would get a chance to meet Mariachi Vargas [de Tecalitlan] and Ruben Fuentes." The former is the most famous mariachi band in Mexico, and the latter is the country's most celebrated record producer. They could bring the project to life.

"I wanted to meet Ruben," she continued, pausing to pull back her hair so that she and Julie Purcell, her makeup artist, could initiate negotiations about colors ("It can't be too black or too red") and strategies ("I tend to overdo it"). Julie opened a case of paints and studied them.
"Anyway, I wanted to ask Ruben to do a record," Linda said. "But I had to wait, because he's a, you know, big-deal guy. I didn't know if he'd go, 'Well, this chick, I have to deal with her, this American.' But I met him. It was so funny. I had hurt my back. I hurt it so bad I was in bed three months - you know at my age everybody gets into a back injury - but this was just two days after I had hurt it.

"It was at the point where I was, you know, crawling. I couldn't get out of bed and couldn't walk, and I'd been two days in my nightie because I couldn't" - she half-raised her arms - "it was too hard. And my hair, it was -" she grinned - "the little child who had been staying with me and was playing with me and was cutting out Valentines . . . she was only three or four, so I had pieces of paper kind of glued in my hair and pieces of glitter stuck everywhere, and the carpet of my bedroom was absolutely full of glitter.
"But he called, and I was so kind of out of it from being sick I had completely forgotten about it, and I said, 'Oh, gee, you've flown all the way from Mexico City.' He had somebody that was translating for him on the phone. He doesn't speak a lot of English, and I don't speak a lot of Spanish.

"So I called my best friend, Patricia Casado, who owns the El Adobe restaurant in Los Angeles, which is the only restaurant I ever eat in - they've been like family to me since I moved from Tucson - and Patricia and her mother came over to translate. And Ruben walked in and here was this mad woman with this child and glitter everywhere."
They hit it off at once. Fuentes, like Ronstadt's rock 'n' roll producer, Peter Asher, was "a gentleman, a real gentleman." She likes that in a man. And Fuentes was the best in his field. Even though he had retired, he told her, "For you I will make an exception, because I think you really love this music."

He asked to see a list of the songs she had in mind. When she showed him, he seemed surprised. They were decades old, or more. He wondered where she had heard music long gone from radio-station play lists or record-store bins. The answer inspired the title of the album.

"I learned them from my father," she told Fuentes. "I told [Ruben] that they were really the only Mexican songs that I knew, and I really loved them. He said, 'They're very difficult to sing. Have you ever played them before?' I said, 'Not really. I've just kind of sung them, you know, singing along with my father or singing along with my brother, but I've never really sung lead.'
"So then [because of the back injury] I had to lie down, and I was trying to pick keys, going 'la, la, la, la, la, la, - this might be the key of a song I've never sung before. So he sort of got a sketch of where the keys were, and he went home and wrote some arrangements and sent them back on tape for me." After that, she rehearsed in Los Angeles, practicing rhythm and phrasing and her Spanish accent. Although her father, Gilbert, is Mexican-German (her late mother, Ruthmary [Copman] Ronstadt, was of Dutch descent), and Spanish was spoken in the home as she grew up, she never became bilingual.

She was ready, or at least "passable," by the opening of the Tucson festival, where Fuentes would be watching. "I was really nervous," she said. "And my dad was really cute. He went up to Ruben and -'cause Ruben didn't know me or know what I was going to do - and said, 'Have some compassion for her.' He said it in Spanish. 'She's only learning. She doesn't quite know how to do it yet.'

"So I got up on stage. I was scared to death and I dragged my dad up afterward, too. If I was going to be humiliated, we were all going to be humiliated. So he came out and sang something. We liked it. It worked out nicely, so I thought, well, I'd love to make an album."
Last summer in Los Angeles, she did. Fuentes and Asher co-produced. El Mariachi Vargas de Tecalitlan provided a wall of sound with six violins, two trumpets, a harp, guitars, guitarron, vihuela and vocals filled in Mariachi tradition, with bravado, poignancy and rambunctiousness.

In the mirror, her lashes had grown thicker, the lids dark with shading. In her 20s, Ronstadt had told an interviewer her goal was "to become the world's greatest Mexican singer." Now, she said, "I've tempered my ambition. I will never be a better singer than Lola Beltran (the famous Mexican vocalist), nor does it disturb me even slightly because I have her as a model to look to, and it'll be great fun to have that for the rest of my life, to follow her example. I always loved her as a singer and she influenced my rock 'n' roll style a lot."
Iwatched Linda Ronstadt in her transition from a person who makes Valentines with a four-year-old and eats chicken soup for lunch to La Linda, cantante of a generation. I watched her apply a streak of gray just below the bridge of her nose. "Only for the stage," she smiled, "not for the street."

She told me she admired the makeup of Japanese Kabuki actors. "The most fabulous stuff ever. They paint under - Georgia O'Keeffe does it, too. If she wants to paint a white flower, she underpaints it with yellow or green, and it glows out underneath the white."

Iasked her why she had never acted. "I'm not interested," she said at once. "It's like asking a school-teacher why aren't they a secretary. I mean, I'd infinitely rather be a school-teacher than a secretary, and I'd infinitely rather be a singer than an actress. Acting is boring to me. I mean, it's interesting, and I respect the people that do it, but why do I want to go and work for somebody else? I'm self-employed. I can do as I please. And when you act, man, you're talking meat. You have to do everything they tell you. You have to wear what they tell you to wear, you have to paint your face the way they tell you to, you have to stand where they tell you to and you have to act like they tell you to, and I'm not good at doing what I'm told."

Someone came in to borrow her jacket. Then someone came in to ask what she wanted for lunch. Then her manager dropped in to remind me my time was up, that she should conserve her voice, already a little strained from two weeks of rehearsals in Mexico.
She talked a little longer anyway, about acting, about television, which she "loathes," and about feeling "like a real person," now that she sings Mexican music. "The proof of the pudding was when I did television," she said. "It always makes me nervous, but with the Mexican music I've never gotten nervous on television." She made a shrugging face. "I just go, 'I'm learning.' I've never had that kind of confidence before, ever, with any music that I've ever sung."
I caught myself thinking of her as a muscular woman, not a trait one ordinarily associates with someone five-feet, two-inches tall, whose main popular image is torch singer/sex kitten. She had the chi, the Chinese deep inner power. It lay in repose, to be summoned as needed. When she sang, it appeared in a voice in which clarity, strength and purpose were not separated.
Peter Asher became Ronstadt's producer in 1974 with "Heart Like a Wheel." He has described her as "brilliant musically" with a voice "qualitatively exceptional." In The Rolling Stone Illustrated History of Rock and Roll, (1976), writer John Rockwell said she "owes her success to her looks, her charm, her ear for harmony singing, but above all to her voice, which is about the most versatile, strongest and most alluring vocal sound in pop music.... Her influence has been considerable." Close friend J. D. Souther told Time in 1977, "Her creative capacity is endless. I doubt if she knows the depth of it herself."
Such praise, a decade ago, comes to appropriate fruition with the Canciones project, "an act of retrieval and celebration," wrote Pete Hamill in an essay about mariachi music for the tour's theater program, "and the refusal of an artist to honor arbitrary borders. Of all the performers in El Norte, perhaps only Ronstadt could have accomplished this with such style and confidence. . . . The music of the mariachi is as much her birthright as is rock 'n' roll."

Ronstadt's next album, Voces, will continue exploring the birthright. It is the story of a third-generation Cuban-American woman suddenly lost in "this new culture of materialism. She's really questioning," Ronstadt said of the character, "and she remembers - she remembers her first lover and the excitement of her first kiss. It sounds very serious, but she's very funny. She's a fiesty little Latin girl [Ronstadt crooked her elbow and cocked her fist into her waist] saying, 'What the hell is this?' She's used to taking charge of herself and is just confused as to what direction to take charge in."
The album is neither autobiographical nor foreign terrain for Ronstadt, who has often altered her musical direction, moving from country rock to rock to Nelson Riddle to light opera to new wave and pop and now to Latin huapangas and sones. I had seen her, over the years, in most of these genres. I liked some, didn't click to others, but the morning I saw her on a stark stage of the "Today Show," dressed in black charra, backed by a semicircle of the best mariachis I'd ever heard, breaking hearts with "Por Un Amor," I stopped cold. I didn't move, didn't even finish drying off from the shower. It was like watching someone find destiny.
But not to her.
"People think I've been changing," she said in the dressing room, "but in fact I've been singing all these kinds of music all the time. The thing that was a change for me was rock 'n' roll. I never heard rock 'n' roll until I was eight years old, and I never tried to sing it until I was about 16 or 17, where this other stuff I'd sung forever. It was normal for me. I've always sung that.
"The other stuff was the branching out. The public has a tendency to think that when they don't see you, you've disappeared. Whatever they don't see you doing you must not be doing. So, when I went to sing Pirates they said, 'You can't do that. We've never seen you do that. How do you know how to do that?' But my mother had a big Gilbert and Sullivan collection. I've heard those songs since I was two. My grandfather did an arrangement of Pirates of Penzance.... It was the same way with the Nelson records."
I could see that she was right, that there was nothing different from "Long, Long Time" to "Love Has No Pride" to "Blue Bayou" to "Por Un Amor." Yet I believed, even more strongly, once I had seen the mariachi stage show that, although all her albums and genres constituted a unified column, not random sallies, the Mexican music was on point. It was her best stuff.
"So maybe I won't make as much money doing this," she said. "I don't care. I never did it to start with for the money. I really didn't. I never sang rock 'n' roll for the money. I just sang because I wanted to sing. And I wanted to sing with the best musicians I could find and get to be the best singer I could get to be. Not the best singer in the world, but the best singer I could be."
She paused to examine her cosmetic progress. Julie had left the room. Ronstadt's face, previously plainly pretty, glowed with the colors of La Linda.
"What I'd like to do," she said, "is take my rock 'n' roll band to Mexico City and do an hour show with the mariachis and an hour show with the rock'n' roll band. That would be great fun! Because people say, 'You're not doing rock'n'roll anymore.' Well, [bovine vulgarity] I had a huge single last year. I sang with Chuck Berry in his movie.... I live in that genre still. It's just that I'm not always doing it in front of the public, and like I said, they think when they don't see you doing it you've disappeared. You don't do that."
The evening of the San Antonio performance was cold and wet; a norther had blown in, and as traffic swirled in the drive outside Municipal Auditorium, women in furs and men in their best wool overcoats jammed the front doors. Like the city, the crowd was Anglo and Hispanic, mostly the latter.
As I made my way inside, I observed a number of local movers and shakers. The San Antonio Light had described the city as gripped by "Ronstadt fever," and it was difficult to find a contemporary radio station, English or Spanish, that wasn't playing something from Canciones. Both shows were nearly sold out, at $20 a seat. As the scheduled 8 p.m. curtain time passed, the audience grew tense, waiting for the moment of release. Rounds of clapping erupted. They wanted her, now.
Then the house lights dimmed. The black curtain rose. The 13-piece El Mariachi Vargas exploded with an instrumental, and beneath the barrage of that sound she walked forward from the rear of the stage. She wore her black and silver charra, red roses pinned in the braids that were wound on the back of her head. Her lips were cupid's bows, scarlet. Her eyes were those eyes.
I remembered her telling me that the stage made her nervous. ("There's people watching. I want them to go away.") She strode straight to the microphone as if it was all there, at that moment, live or die, cards on the table one more time, and she hit the long "Ay-y-y" of "Los Laureles" and everyone in the audience was humbled by her gift for the rest of the night.
She belted that one right from the gut, gritting down hard on the hurt and irony in a ballad of unrequited love:

Ah, what sadness I feel
           When you fill yourself with haughtiness
           Upon seeing my heart
           Entangled with yours!



No question, this was the same woman who sang, "I think I'm going to love you for a long, long time." But this time you knew she wouldn't crumble because of it.
"Por Un Amor," the show's second number and probably the most-played single, drew sustained applause. Whoops and yelps of delight, the first of hundreds of the night, let Ronstadt know that this was going to be a communal undertaking.
"I can't sleep," Ronstadt sang (in Spanish), "and I live full of passion." Hers was the voice of tristeza, the sad joy of Mexican fatalism. It had been with her from the start.
"What else do people sing about?" she had retorted, looking directly at me, not averting her gaze. "I mean what else are you going to sing about? How much is that doggie in the window? I mean, think of what is written m literature and poetry and songs. The music is meant to lighten your load. By singing it and dealing with it, you can release it. And release yourself." It was the most insistent I had seen her, as if a nerve had been touched.
"It's an exercise in exorcism," she said. "You exorcise that emotion. You talk about it and place it in a context with your life. It can diminish it [the sadness] and make you feel joy.
"Joy is . . ." She paused. An image came to her, a parable. "People say to me -" she mimicked the voice and pose of an airhead - "Oh, I just love Mexican music. It's so happy." She rolled her eyes and continued. "Because you know, happiness is a Beverly Hills lady - I love to pick on them - who says, 'Oh, those Mexicans are so lazy.'Then she's trying to hire some Mexican to do her yard work. They pay by the hour to go over to sweat at Jane Fonda's. They could do their own yard work and burn twice as many calories. They'd die if they had to work like Mexicans. They'd die.
"So, this Beverly Hills woman wanders around Rodeo Drive and will get her nails done and while she's passing this store, she finds some pink nail polish that exactly matches her pink sweater and she goes, 'That matches!' So then she's happy. That's happiness. It's a very shallow emotion.
"But joy," said Linda Ronstadt, "is a combination of despair, fear, fatalism, anger, triumph - it's all those things. You know Joseph Campbell (mythologist, author of Hero With a Thousand Faces)? He was a very good friend of mine, the neatest man I've ever known. He said to me once, 'Life is basically intolerable.' He said music is the only way we have of dealing with it, and music is mythology. Music is an oral myth. Music is oral dreaming. It's a way of triumphing over despair. The Catholics [she is one] say, 'Life is a vale of tears. Help me here in this vale of tears.' It's a myth. The metaphor of life is the vale of tears. So . . ."

She broke into a glorious grin. ". . . if you can triumph over it, that's cause for joy. This music has got that in it. It's mythology. It's triumph over a situation that is basically intolerable."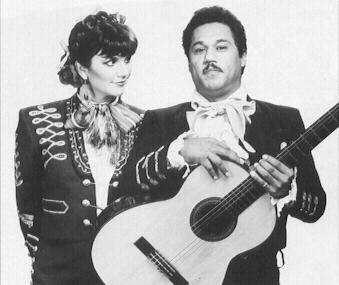 For two hours Linda Ronstadt showered the audience with triumph. By "La Cigarra" (The Cicada), with its spine-tingling "Ay-La-La-La" stretches and tale of cavalier bravado in the face of mortality, half the audience was standing as it applauded. Her duet with Danny Valdez in "El Sol Que Tu Eres" (The Sun That You Are) was as tender as spellbinding.
Sometimes in a great performance you can tell that the performer is not only delivering the goods, but loving it. You could see that love in Ronstadt's expression. The crowd was hers. The whole damn city was.
She sang "Mexican Cancion," a paean to the evening's festivities, and dancers swirled six Mexican flags. You couldn't hear yourself think. ". . . the cancion Mexicana," she sang, "is the most beautiful/Because it comes with love." To prove it, in the second half of the show she filled "Hay Unos Ojos" (There Are Some Eyes) with that old Ronstadt angst, the tristeza:

"There are some eyes which if they look at me
           Make my soul tremble with love
           There are some eyes so exquisite
           Prettier eyes I have never seen."

The woman next to me was misty, and men's voices filled the room with "Lin-daa" and "Oy." An "Hay, que te quiero!" came from the balcony. Only two days earlier I had observed this folk-diva divide her concentration between the correct application of facial base and a discourse on Milan Kundera's The Unbearable Lightness of Being. After that, I had walked the streets of San Antonio for an hour. I got my Walkman and aCanciones tape and walked some more, with Ronstadt in my ears and the tiendas of west Houston Street in my eyes, this huge Hispanic dream cloud. At the photo shoot I had lapsed so far ("She's flawless! She's beautiful!") that Julie had teased me about being "smitten." She was right. I even got an autograph. Last time I'd done anything remotely like that was my freshman year in high school in Athens, Georgia, when I asked Marianne Gordon, the homecoming queen, to sign my yearbook.
Fantasy, of course, but was not that the purpose of the evening? Of art? Is not the proper response to esthetic pleasure to be pleased, without shame? She had said it was to make the intolerable bearable, to provide joy. It was that, too. I was on an excursion into beauty. I hoped I would never get too jaded to sense the triumph.
Ronstadt played the mariachis as they played their instruments. She was the coquette, the darling, the compañera in bandoliers, the maiden, the mistress of all she beheld. She drove the long opening note of "La Charreada" into the ceiling, overpowering the microphone and speaker banks, holding the audience like puppets.
Danny Valdez presented her a long-stemmed red rose, and she offered it to her audience. A standing ovation brought her back for two encores. On the last, "Volver, Volver" (Return, Return), the story of parted lovers, the audience joined in the chorus.
Then the singing was over. She did not leave, peering instead into the darkened arena and holding her right forefinger near her cheek as a perch. She beckoned for something to come. I looked back and saw a paloma fluttering slowly up the aisle. As it came nearer, she held up her left hand. A second bird was in flight. It was like watching some kind of miracle. It seemed improbable that the palomas would find her among the hundreds of other humans, but she did not flinch, nor betray a doubt. She smiled, her eyes danced, and she watched their progress. First one came to her fingertips, and then the other.

Source: http://www.ronstadt-linda.com/artamway.htm